The new Mt. Hope chapel – now called Grace Chapel is just about complete. She still needs a coat of exterior paint and a few mechanical details are still on the to do list, but everything should be wrapped up by the end of October. Back in July we received a temporary occupancy permit from the county that allows us to utilize the chapel during the final phases of construction.
The chapel has 6,000 square feet of space that includes a 4,800 square foot sanctuary with a state-of-the-art audio and visual system. A comfortable 400 square foot meeting room with a refrigerator, counter with sink, and microwave is located just off the foyer. Two spacious restrooms are also adjacent to the foyer. A drinking fountain with ice cold water where you can also refill your water bottle is conveniently located just inside the entry.
Grace Chapel has plenty of space for the largest guest groups visiting Mt. Hope. The following picture gallery is just a small representation of the many stages of the construction process and the many workers and volunteers who worked hard and gave of their time to build Grace Chapel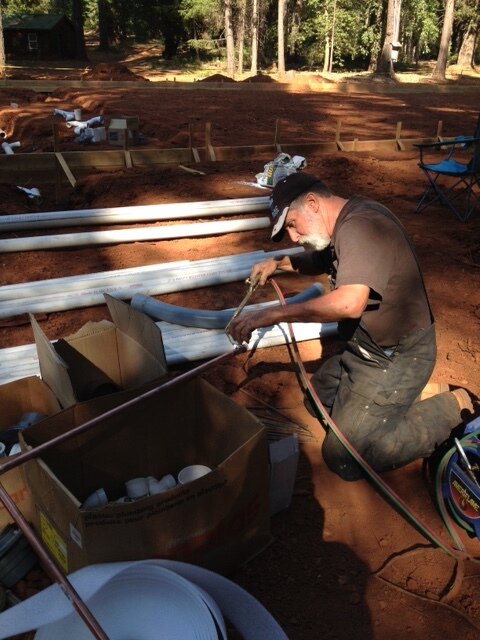 2017 New Chapel Construction Begins
New construction at Mt. Hope. The construction of the new chapel is coming along thanks to the many faithful volunteers, contractors, and workers.The roof will be on soon to allow the crews to continue working inside throughout the rainy winter months. Please stop by any time to see the progress. Better yet, bring some gloves, tools, or just your willing heart and help out where you can. Come join us and be part of the work to build this awesome facility where the Gospel will be proclaimed and the truth of God's Word will be taught for generations to come. Please pray for the ongoing safety for all of the workers.